Criminal v. Civil Dog Bite Cases in Georgia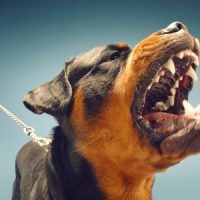 When you think of dog bite laws, your mind probably turns to cases where a victim seeks compensation for injury-related losses. You might not expect that there are some dog bite laws that are criminal, and Georgia's Responsible Dog Ownership Act (RDOA) is an example. If the animal's owner violates any of the provisions related to dangerous and vicious dogs, that person could face a high and aggravated misdemeanor. For a conviction, a judge could sentence up to a year in jail and a $5,000 fine.
For dog bites and attacks that involve criminal activity, there are often questions about the victim's remedies. A conviction may help you gain closure after being attacked by a dog, but a criminal case is separate from your rights. An Atlanta dog bite attorney can assist with your civil case, which is based upon personal injury concepts. Some background information will help explain how the proceedings are different.
Criminal Dog Bite Case: The RDOA includes numerous examples of illegal acts, including not having a proper leash, not securing the dog according to legal requirements, and leaving dogs alone with minor children. When someone violates the law, the government is the plaintiff seeking a conviction against the defendant, the dog's owner. If the government proves guilt beyond a reasonable doubt, the defendant faces criminal penalties.
A victim is not a party to a criminal case, even if you are called to testify. You do not receive anything through the process despite the defendant being convicted.
 Civil Claims for Dog Bite Injuries: When you are seeking damages for your losses, you must pursue a case in civil court. As the victim, you are the plaintiff. The defendant is the dog's owner, but an insurance company will usually defend the case.
The end result of a civil case is compensation. You can recover damages if you prove that the dog was not properly managed by its owner, because Georgia's civil dog bite law imposes strict liability. Your burden of proof is a preponderance of the evidence in a civil case, much lower than a criminal case. A conviction under RDOA is not necessary, but it could be useful evidence in your claim.
 Compensation for Victims: In a civil case for dog bite injuries, damages are intended to make you whole after suffering significant losses. Your compensation may include:
Economic damages for medical costs, lost wages, out-of-pocket expenses, and other tangible losses; and,
Noneconomic damages, such as pain and suffering, emotional distress, scarring and disfigurement, and other losses that affect your quality of life.
Consult with Our Georgia Dog Bite Lawyers About Your Options
It is reassuring to know that you could qualify for compensation regardless of what happens in a criminal dog bite case. For additional details on your legal remedies, please contact Zagoria Law at 404.653.0023 or via our website. We can set up a free case assessment with an Atlanta dog bite attorney. After reviewing your case, we can explain what to expect with the legal process.
Source:
advance.lexis.com/documentpage/?pdmfid=1000516&crid=38590830-7183-44cb-8d67-23071a7c374e&nodeid=AAEAAJAADAAL&nodepath=%2FROOT%2FAAE%2FAAEAAJ%2FAAEAAJAAD%2FAAEAAJAADAAL&level=4&haschildren=&populated=false&title=4-8-29.+Limitations+on+dog%E2%80%99s+presence+off+of+owner%E2%80%99s+premises%3B+penalty+for+violation%3B+defense.&config=00JAA1MDBlYzczZi1lYjFlLTQxMTgtYWE3OS02YTgyOGM2NWJlMDYKAFBvZENhdGFsb2feed0oM9qoQOMCSJFX5qkd&pddocfullpath=%2Fshared%2Fdocument%2Fstatutes-legislation%2Furn%3AcontentItem%3A6348-FRG1-DYB7-W34W-00008-00&ecomp=7gf5kkk&prid=c0ba3ebc-747e-4648-a592-7b42ebdcb175