Tips to Keep Babies and Toddlers Safe from Dog Bites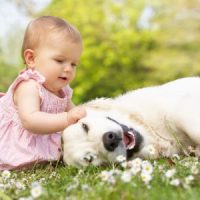 Children and dogs have always shared a special bond, and it is this closeness that can also make kids vulnerable to dog bites from unpredictable canines. Statistics indicate that just over half of all victims are children, and the highest rate for child dog bites is the age group from 5 to 9 years old. As compared to adults, kids are more likely to need medical treatment for dog bite injuries. The trauma is also more likely to be severe, leading to hospitalization.
Another age group that is extremely vulnerable to dog bites and attacks is babies and toddlers. Many parents do not realize that even the most docile canine can attack, and their young children are in harm's way. If your baby was hurt, Georgia laws provide you with options. An Atlanta child dog bite lawyer can explain more about them and how to recover compensation for your losses. Plus, some tips may help you avoid severe dog bite injuries to your baby.
Never leave a baby and dog unattended. Constant, close supervision is essential whenever babies are around dogs, whether in a crib, high chair, swing, or rolling walker. Dogs are unpredictable, but so are babies, and the little ones can make dogs react in ways they normally do not. 
Always ask permission from the dog's owner. For toddlers who are new at walking, the sight of a furry, adorable dog is irresistible. However, if you encounter a dog in public, make sure to talk to the owner before letting your baby interact. Ask if it is OK that your toddler pets or touches the dog, and keep your child away from the canine's face.
Do not put a baby on the floor with a dog. Parents often take to the floor with a blanket and toys during playtime with the child, but this can be a dangerous spot. Even if you are present, a dog can move quickly to attack. 
Keep dogs out of the baby's sleeping area. Regardless of whether anyone is in the room at all, it is wise to maintain separation for your child's sleeping space while they are young. The time for the beloved dog to sleep in bed is when children are older. 
Start teaching toddlers early. You know your child learns other topics quickly, so start instructing them on how to interact with dogs safely. Tell your toddler about always asking permission, and stress how to be gentle when stroking and touching a dog. When your child learns these lessons, you can talk about understanding a dog's body language and situations where they should not approach a dog.
Set Up a Consultation with a Georgia Child Dog Bite Attorney
These tips are useful, but you may not be able to prevent all dog bites. To learn more about the legal process for recovering damages, please contact Zagoria Law to speak to a member of our team. You can schedule a no-cost case assessment with an Atlanta dog bite lawyer by calling 404.653.0023 or going online.
Source:
kids-n-k9s.com/dog-bite-statistics-for-the-united-states/