Does Georgia's Dog Bite Statute Cover Non-Bite Injuries?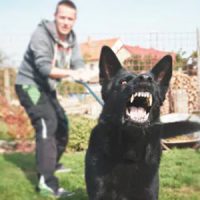 Statistics on dog bites are disturbing, sending many people to the ER or hospital, requiring extensive treatment, and often leading to infection. However, you might not give much thought to how non-bite injuries from dogs can also lead to serious trauma and significant losses. Knockdowns, maulings, and other attacks are just a few examples. Fortunately, Georgia lawmakers have enacted a dog bite statute that imposes liability upon owners, allowing victims to recover compensation for their physical, financial, and emotional losses.
However, dog bite laws in some states draw a distinction between bites and other injuries, which can lead to some confusion about your rights. To clarify, Georgia's dog bite statute DOES cover non-bite injuries, and the details are described below. While it is critical to consult with an Atlanta knockdown and non-bite injury lawyer for personalized advice, some general information is useful.
Broad Coverage Under Georgia's Dog Bite Statute 
For purposes of understanding non-bite injuries, you should note that this information only applies to the statute enacted by lawmakers. Georgia also allows recovery on the basis of other theories of liability, but the statute is specific. A victim may qualify for non-bite injury damages if:
A person owns or keeps a vicious dog;
That person carelessly manages the dog or allows it to roam; and,
Because of the careless management, the dog caused injuries – including injuries unrelated to biting.
To prove viciousness, a victim need only show that the dog was required to be secured or on a leash by law, and it was not when the attack occurred. Also, keep in mind that the statute will bar compensation when the victim provoked the animal. 
Types of Non-Bite Injuries 
A knockdown or mauling by a dog can lead to injuries very similar to being hit by a vehicle, since the impact can be violent. The dog might also jump on top of a victim on the ground, especially a child. Such an attack can lead to:
Concussion, traumatic brain injury (TBI), and other head trauma;
Neck, back, and spinal cord injuries; and,
Scrapes, bruises, and abrasions.
In addition, a dog will often use claws when mauling a human being. The animal could cause deep cuts, scratches, and lacerations, often requiring stitches. With severe damage, especially to the facial area, a victim will often require surgery or even a series of cosmetic procedures. Plus, whenever the skin is breached, there is always the potential for infection.
Under Georgia's dog bite statute, it may be possible to recover for medical costs, scarring and disfigurement, and emotional distress from non-bite injuries.
Discuss Legal Options for Non-Bite Injuries with a Georgia Dog Bite Attorney
It is encouraging to know that you can pursue the animal's owner when you suffer non-bite injuries, but you should rely on experienced legal representation for your case. For more information, please contact Zagoria Law by calling 404.653.0023 or visiting us online. We can schedule a free case review with an Atlanta dog bite lawyer who will advise you on the legal process.
Source:
advance.lexis.com/documentpage/?pdmfid=1000516&crid=900ec41e-6800-401b-8e9d-616cac5f3a3b&nodeid=ABZAADAAJ&nodepath=%2FROOT%2FABZ%2FABZAAD%2FABZAADAAJ&level=3&haschildren=&populated=false&title=51-2-7.+Liability+of+owner+or+keeper+of+vicious+or+dangerous+animal+for+injuries+caused+by+animal.&config=00JAA1MDBlYzczZi1lYjFlLTQxMTgtYWE3OS02YTgyOGM2NWJlMDYKAFBvZENhdGFsb2feed0oM9qoQOMCSJFX5qkd&pddocfullpath=%2Fshared%2Fdocument%2Fstatutes-legislation%2Furn%3AcontentItem%3A6348-G111-DYB7-W40G-00008-00&ecomp=vg1_kkk&prid=a8fe06e6-d1fa-4e08-8f4a-47f14134b739