Zagoria Law Files Negligence Suit After Dog Attack in Cook County, Georgia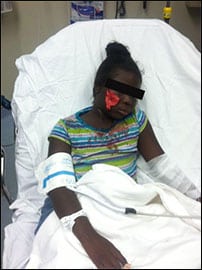 ATLANTA, GA – June 15, 2017 – The Zagoria Law Firm, an Atlanta-based law firm specializing in personal injury cases, today announced it has filed a negligence suit against Cook County Land Ventures, d/b/a Sunshine Acres, LLC, on behalf of Timothy and Kimberly Walton, individually, as well as their daughter Kymaria Walton. The suit, filed in the Superior Court of Cook County, State of Georgia, civil action file number 2017CV036, seeks damages for medical expenses incurred by Timothy and Kimberly Walton in the treatment and care of Kymaria Walton after a vicious dog attack. The suit also seeks justice for Kymaria Walton for the severe permanent facial scarring she has suffered because of this horrific attack.
"This tragedy could have been prevented had the landlord of a rental property exercised the most basic prudence and good judgment regarding a dangerous animal being kept on their premises," said Zagoria Law Founder and Principal David Zagoria. "Instead, they chose to show blatant disregard for visitors to their property—and for the laws of the State of Georgia. As a result, an innocent child suffered life-altering injuries."
The suit alleges that on August 1, 2015, Sunshine Acres, LLC, a Georgia Corporation, owned, operated, and managed a mobile home community located at 46 Briarcliff Circle, Sparks, in Cook County, Georgia, Plaintiff Kymaria Walton was in a common area on the property when she was viciously attacked by a pit-bull canine named "Ciroc," owned by another tenant, Erin Harris. At the time of the attack, representatives of Sunshine Acres, LLC were aware the dog had a history of aggressive behavior.